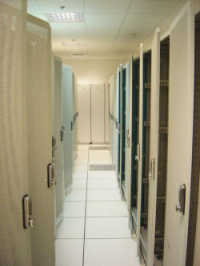 Allied internet provides great services for hosting and web design. But our core business is a premium physical infrastructure for premium colocation services
Colocation let's you realize time and cost savings using a shared data center between multiple services. We provide significant economies of scale for demanding applications with robust power and mechanical systems. Our facilities efficiently host many types of IT and communications systems in safe, secure facilities. This gives telecommunications, internet, ASP and content providers, as well as enterprises to enjoy low latency, robust uptime, and the freedom to focus on their core business.
Outsourcing network traffic to a colocation service provides dramatic bandwidth capacity. Your business web site access speeds will improve as you reduce traffic costs and free up internal networks for other uses.
External connections include multiple fiber optic feeds for redundancy. Our facilities are online all the time. This is supported by peering services from the largest data carriers operating today. If you need connectivity all the time, we have the network for you.
We have data backup also. Using 256 bit encryption and the strongest algorithms available, your data can be stored indefinitely but retrieved only by the password you keep.
Our facilities include all the protection you would expect for world-class service. This includes:
Fire Protection: Both passive and active suppression systems are used in our facilities.
Air Conditioning: It's cool on our data floor. We use a chilled water system as the basis for air handling. This keeps thousands of critical systems at their preferred temperature.
Low-impedance Electrical Systems: Give us your most demanding server and see how it thrives with the cleanest power it has ever used.
Power: Our engineers put in the best redundancy available. Besides multiple backup generators and backup batteries, we have a state of the art modern generator with a fly-wheel and diesel system.
Physical Security: This center lets in no one without passing through multi-factor authentication. This includes passwords, a proximity card access system, and individual locks on cabinets. We can also provide biometric security measures such as fingerprint recognition, voice recognition, retina scanning, and "weight matching".
Let Allied Internet Solutions provide the connection your business needs. Contact us to use the best colocation services in the industry.